It's not a new concept that if you want people to know your product and eventually buy it you are supposed to promote it first through different media like TV, radio or, in recent times, Email. Email marketing is comparatively a newer way of advertising but equally worthy because according to statistics both adults and teenagers use email regularly in large percentages.
Several WordPress plug-ins are super effective in email marketing and give great results. We will see some of them in this article but before that, we have to look into numerous ways through which we can improve email marketing campaign
Aims and Objective
First, ask yourself if you know what you want to achieve through this marketing campaign. Now according to your company and your work, these can differ. For instance, people starting a blog will have a complete different perspective of aims and goals than people owning an online store.
Most of the time email marketers are aiming for one of the following:
Trying to get new customers: By telling people what they do? And how they are beneficial for the general audience
Trying to make a sale: They are sending out promotional emails for a new product that they just launched
Trying to keep their bond with existing customers: By analyzing what they like and providing them something they value.
Trying to gain the attention of members who were active before but now lost interest.
Who is my Audience?
Honestly, people don't stay connected with a company or a business because they like it. In fact, they like it because they are giving the audience a reason to stay by engaging them in products and things they like. As soon as you send your first email, you will get subscribers. Now use Google analytics or other social media sites like Facebook or Instagram to collect data about age, gender, and interests of your audience
Age: Youth and adults have completely different interests most of the time. Also, teenagers are more into social media it's easy to attract them
Gender: Not to generalize, but female usually prefers clothing or jewelry while cars and watches fascinate men more.
Interests: Know if your subscribers like movies, sports, arts.
A reputable and efficient web hosting is the foundation of rich organic traffic. Most people lose 60% of their traffic due to excessive downtime. Therefore, it is essential to conduct a thorough analysis and research on web hosting reviews for the best choice for you.
Get Whitelisted
Most of the times marketing emails are never read by people because they go directly into the spam folders. In order to save yourself from that, you are supposed to first get Whitelisted. This can be achieved by being marked as a friend from your recipient that can be done if you provide them with a guideline on how to do it with your initial email.
Subject and Content
Like the title of a book, Subject plays the same role for email and since it's the first thing that your client sees, without knowing the underlying content, it has to standout. Few things to remember while writing subject:
Keep it unique, classy and relevant.
Don't exaggerate. If your subject says one thing and your content says other it leaves a negative impression
A/B Subject testing: This helps to send out 2 different subjects that you can send to 2 different groups of people and evaluate which one did better.
Similarly, if the subject is what makes a client to open your email, your content helps them decide whether they want to stay or not? For this, your content has to be powerful. Remember:
Don't jump right to it: Start with a video, a story or anything else than your product. Let your audience be comfortable first then introduce your product
Simple words: Don't use difficult jargons. A confused client is never a happy client
The benefit to people: Introduce your product and convey how it's beneficial for people. Highlight the use of the product in the start could be a good way too.
Analysis
Like any other work, email marketing campaign can be improved by feedback from your clients. Test everything:
Check font size, color, design layout.
Keep email analytic to see open, forwards or unsubscribed by people
Send short 2 minutes surveys and ask people directly what they want to be improved
Keep experimenting with new designs, subjects, layouts until you get good results
Now that we are clear on what steps you should take for running a successful email campaign, let's view some of WordPress plugin that aids you in this purpose.
Best Plugins for Email Marketing:
1. OptinMonster
One of the great feature about OptinMonster is its light weight that is achieved by its modularity which means instead of downloading the whole package you can only download the modular you want. Some of the amazing features of this plugin are:
Exit-intent: Hands down! This has to be the best thing about this plugin. It can track mouse speed and hence show pop up at the very moment people are about to leave resulting in best conversion
Chose design and customization of opt-in
• Use A/B method for forms and subjects to estimate the best response.
• Very easy to understand: Select opt-in title, add duration, choose loading delay etc.
2. MailChimp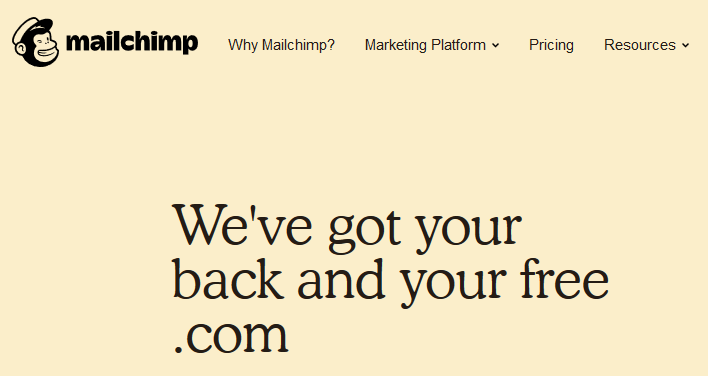 One of the best things about MailChimp is its easy installation and that it integrates perfectly with WordPress. Other important features include:
Email tracking: To see how many people actually opened the mail?
Autoresponders: Great way of reaching people when you aren't available
Customizable signup boxes and signup forms
The range of readymade email templates. Also, you can customize them if you wish
Analysis review: Assist customers reviews on the email campaign
3. LeadPages
LeadPages is another of WordPress plug-in that allows making great landing pages and attaching it to your email list. Why is this a good plugin?
Let's you create two-step opt-ins by yourself
Generation of LeadLink: subscribers can join your list and also enables them to subscribe to the webinar
Allows you to convert website link into subscription forms
In fact, all the above mentioned plugins integrate with google analytics to evaluate the performance and success of the campaign. Not only this, but it also offers a scroll box that collects email addresses of the visitors that ensures connection building with new customers. Therefore, if you follow above-mentioned guidelines for a successful email marketing campaign and choose a good WordPress plugin, your campaign can honestly standout among other campaigns.